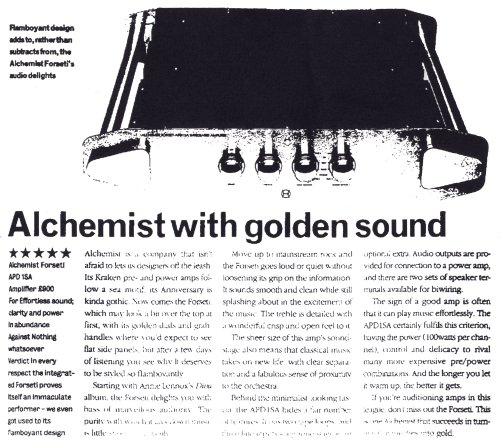 Alchemist is a company that isn't afraid to let its designers off the leash. Its Kraken pre and power amps follow a sea motif. Its Anniversary is kinda gothic. Now comes the Forseti which may look a bit over the top at first, with its golden deals and grab handles where you'd expect to see flat side panels, but after a few days of listening you see why it deserves to be styled so flamboyantly.
Starting with Annie Lennox's Diva album, the Forseti delights you with bass of marvellous authority. The purity with which it has down music is little short of ???????
Move up to mainstream rock and the Forseti goes loud or quiet without loosening its grip on the information. It sounds smooth and clean while still splashing about in the excitement of the music. The treble is detailed with a wonderful crisp and open feel to it.
The sheer size of this amp's sound-stage also means that classical music takes on new life with clear separation and a fabulous sense of proximity to the orchestra.
Behind the minimalist-looking fascia the APD15A hides a fair number of features. It has two tape loops and ???????????????????? optional extra. Audio outputs are provided for connection to a power amp, and there are two sets of speaker terminals available for biwiring.
The sign of a good amp is often that it can play music effortlessly. The APD15A certainly fulfils this criterion, having the power (100watts per channel), control and delicacy to rival many more expensive pre/power combinations. And the longer you let it warm up, the better it gets.
If you're auditioning amps in this league, don't miss out the Forseti. This is one Alchemist that succeeds in turning ?????????? into gold.